Oct 14 2009
Feeling right at home.
Tripawds is a user-supported community. Thank you for your support!
Well hello!  What a great site here! I have a new tripawd partner and after three days getting used to him I googled "dog amputees" and here I am. Just finding my way through some of the forums and other parts of the website but already I feel at home and can see this is going to be a big help to us for the next 10-15 years at least.
I have always had animals as a big part of my life. From '85-'06 I had a run of Samoyeds, as many as three at a time and just loved the breed.
In '06 my last Sam, Sacha died suddenly at age 8 from a thyroidal condition and mysterious complications, leaving me, my wife Elaine and my marvellous American Eskimo bereft.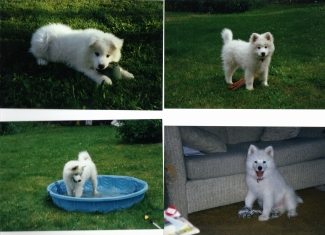 Our family adjusted, as we all eventually do but always kinda wondered if maybe we should really be a two dog unit. We came close a few times but never had found the right timing or fit.
So, this past Saturday I got up, like any Saturday morning, got my coffee, sat in the living room, opened the paper, Elaine in the kitchen… and right there's an article about the local Humane Society being overcrowded with dogs and it describes an 11 month old SamoyedXGreat Pyrenees who was turned in as a stray with a badly wounded and infected hind leg which had to be amputated in August to save it's life. I checked the Society website and he was described as a totally loving dog, in spite of the abuse and suffering he had undergone. I read the info to Elaine, she checked the website and after a phone call, we embarked (heh) to check him out.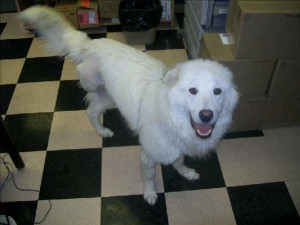 Well, they were right. Elaine and I met him in a small chamber and spoke with an attendant about him for half an hour, we had a meet session when we introduced him to our 7 year old American Eskimo, Yukon… after 10 minutes they already showed signs of bonding and before we knew it we were a two dog family. A two dog seven legged family. So far, after three days, he has adapted beautifully. I think Yukon is in love and Sully (our new family member's name) is so overjoyed to have people who care for him and a forever home that he's on cloud nine. He and Yukon are already inseparable and have been playing outside for most of the morning and are napping now as I write.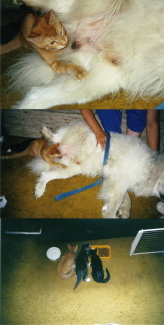 Even our 3 cats seem okay…almost. They were used to big dogs since kittenhood so they should be fine. Yukon grew up with our last Samoyed, Sacha so maybe he remembers having a big brother… I don't know.
I swear I had NO idea as I awoke last weekend that I would be a proud new pack leader by evening time…
Sometimes the insane impulsive things we do turn out to be our best decisions if we are open to possibilities and opportunities when they appear.
As I begin this journey with my tripawd, I have received great support and advice from our Vet and the HS and now that I have found this wonderful and supportive community I am feeling ready to love and care for my new and special friend, Sully.
We will keep you updated on his story as it unfolds.
Thanks people…
Patrick, Yukon and Sully